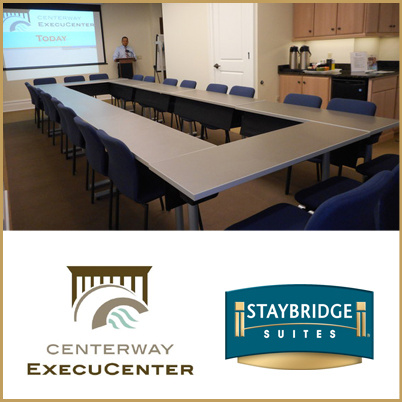 TOP QUALITY MEETINGS™
In partnership with Staybridge Suites of Corning, NY, we offer you complete, ready-to-use office and meeting space, home-like hotel accommodations, efficient technology infrastructure, and professional amenities. We will host your meetings, provide you with extended-stay disaster recovery support, and host your off-site project teams, all customized to suit your wishes. For combined meeting and lodging in the Total Quality Meetings(TM) program, call Centerway ExecuCenter at (607) 438-1123 [607-GET-1-123]. If you prefer, simply fill out the Contact Us form on this page and we will follow-up with you promptly.
AFFILIATED LOCATIONS
Centerway ExecuCenter is a member of the Alliance, CLOUDTouchdown™, DAVINCI and LiquidSpace® networks. The sun never sets on our affiliate network, encompassing thousands of coworking, meeting, videoconferencing and virtual office spaces. Our clients enjoy access to facilities and amenities worldwide.
CATERING AND SUPPORT SERVICES
Upon request, we will coordinate breakfast, lunch, hors d'oeuvres, and other catering for your ExecuCenter meeting from among the dozens of Corning, NY area restaurants and regional caterers. In addition, services including deposition recording, video conference origination and logisitcal support are available.