Meeting Space Faq
You can arrange for catering yourself from nearby restaurants.
You can tell us what you want and we will make the arrangements for you and handle the payments (different caterers have different rules), then we will charge you at our cost plus 20%.
You can choose one of the quick catering options from our menus, at the published prices(no surcharge).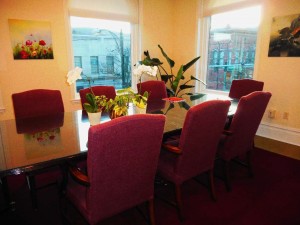 Usually, however:
Any part of a reservation outside of normal business hours carries a 25% surcharge.
Meetings that run overtime are charged accordingly: 15 minutes grace, then a full hour for the first hour over or fraction thereof, then time-and-a-half for the second and subsequent hours over or fraction thereof. Basis is the reserved time.
Your reservation must include and account for setup time as needed (we can help you estimate).
We require ½ hour open time between meetings for cleaning and preparation.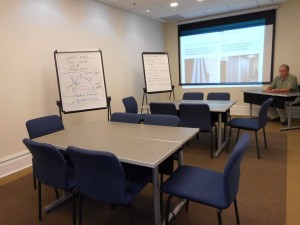 Included:

Wi-Fi and T1 Internet service for all participants
Beverages (coffee, tea, filtered ice water)
Basic facility tech support
Included on request:

Use of large display or projector
Using patch cords or Chromecast we can display or project from most presentation devices
Whiteboard/flipchart(s)
A copy/fax/print/scan allocation
VPN tunneling
WorkCafé™ access (including Wi-Fi) for early arrivals, on space-available basis
Extra charge:

Catering
Extra allocation of copies/prints/faxes/scans
Secure H.323 videoconferencing
($110/$65 flat rate)
Room use ahead of or after your reservation
Breakout room(s)